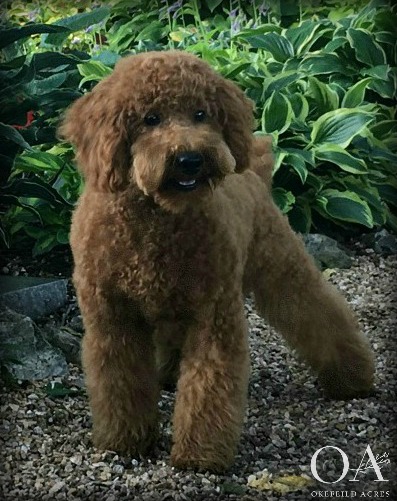 "Rockin' It Red At Okefeild Acres"
Small Miniature Poodle
AKC And UABR Registered - Champion Sire And Dam
Coat Color - Red
Weight - 6 lbs
Height From Top Of Shoulder To The Ground - 12.5"
Bingley is a red Miniature Poodle that came to us from our good friends, Jeff and Mary Ann McGregor, the same home that our Zebby came from. We are excited to add this handsome little guy to our Okefeild family and expect him to produce sweet natured Light and Medium Apricot and Red Mini Goldendoodles.

Super sweet, we are looking forward to adding his beautiful coat color and temperament to our breeding program!
Bingley's Health Testing

Most Common Health Issues For Small Poodles
DM - Degenerative Myelopathy - Animal Genetics - Clear
NEwS - Neonatal Encephalopathy - Animal Genetics - Clear
PRA - PRA-prcd - Animal Genetics - Clear
vWDI - von Willebrand's Disease Type I - Animal Genetics - Clear
OFA Eyes - Normal Right Side - Normal Left Side
OFA Patella Luxation - Normal Right Side - Normal Left Side
Completely Health Tested And Cleared For Breeding
By Our Veterinarian