candy and ARMANI
F2 TEDDY BEAR
Mini GOLDENDOODLES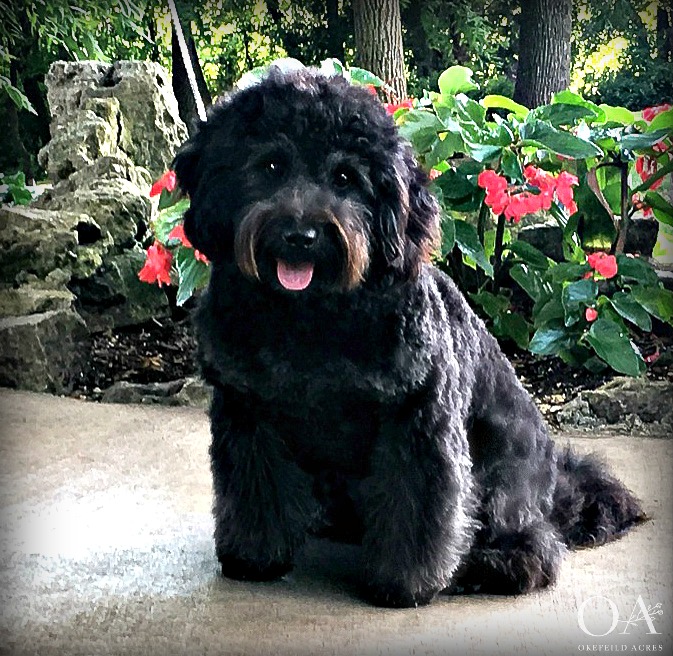 Born: 5/19/19
Choose: Sunday 6/30
Ready: 7/18/19
Coat Type: F2 Medium / Very Wavy
Adult Weight: 20 - 25 lbs
UTD: Vaccinations/De-worming
Included: Spay/Neuter/Microchip
Parents: Meet Candy / Meet Armani
1st Apricot Female Stacey Brown
2nd Apricot Thom Fendl
3rd Apricot Lori Frazier

Black Phantom Female Available

1st Apricot Male Dan Cohen
2nd Apricot Male Deanna Bender
Five Weeks Old
6/22/19
Candy's puppies are five weeks old now and are super adorable and sweet! They have started eating softened food and love it! As they are eating we play our puppy racket recording to condition them to accept the loud noises that they will hear in their future life. We have also added a feeder with dry food so that they can get used to just eating it dry. Mom is separated from pups each day now, during training time, and new toys are introduced each day for them to enjoy. Puppies are also starting to use the litter box, learning to keep their living area clean.
Our trainers have started taking the puppies outside for playtime with toys and are working to condition them to accept scary moving objects rolling around them like a stroller, wheelchair, walker and cane. They also are learning to explore on their own and visit with our cats.
Temperaments are showing to be very sweet and loving, little tails are wagging when someone reaches to pet them.
Next Sunday will be puppy choice day! We will be adding individual pictures and temperament test results by Saturday then we will have scheduled visits to choose or meet your puppy!
Talk to Janet about receiving additional information about availability or click the button above to start your reservation!
Two Weeks Old
6/02/19
Candy's puppies are growing so fast, their little eyes are open now and these babies are fat butterballs! My goodness I got some awesome pictures of these babies, they are so adorable!
Pups have finished up their Early Neurological Stimulation exercises and they really responded well! Each day sees them accepting the exercises a little bit better, the perfect start in their first step towards going whatever direction you need, whether it be for therapy, diabetic/seizure alert or an excellent family companion. Click on the bold link to read over a more scientific description and watch a short video by author, trainer and AKC judge, Dr. Carmin Battaglia.
Talk to Janet about receiving additional information or click the button above to start your reservation! Our next update will be at four weeks!
Newborn
5/19/19
Candy and Armani have given birth to beautiful F2 Mini Teddybear Goldendoodle puppies! Expected to mature to around 20 - 25 lbs, coats will be medium to very wavy that will be soft and full for that awesome Teddybear look that everyone loves! Both Candy and Armani have excellent temperaments and we are expecting amazing family companions in this beautiful group of puppies.
Momma is doing great and has been given oxytocin to expel any retained afterbirth and penicillan to ward off infection. She has received a bath and is recovering nicely. Puppies are strong and of good weight and are really getting in there to nurse.
Regular updates will be posted so that you can watch the puppies as they grow, click the button above to start your reservation process!