These are my absolute favorite grooming products that keep my Goldendoodles and Golden Retrievers looking their best!
I have used a lot of different shampoos and this is my favorite! Even if fleas and ticks aren't an issue I love this gentle formula that really cleans and leaves an amazing, long lasting scent.
Infused with Coca Butter to provide a SOOTHING relief from dry, itchy skin due to flea and tick bites
Our Natural Flea and Tick Plus Soothing shampoo contains NO PYRETHRIN OR PERMETHRIN, with 5 EPA APPROVED Natural Essential Oils - Clove Oil, Lemongrass Oil, Cedarwood Oil, Cinnamon Oil and Sesame Seed Oil - for a pleasant citrus aroma
The combination of NATURAL ESSENTIAL OILS helps to effectively REPEL fleas, ticks, larvae and eggs for up to 7 days when applied to dogs and puppies 12 weeks or older
Recommended for use on DOGS ONLY
SAFE enough for routine baths
Proudly Made in the USA
Hands down, my favorite conditioner! Used by show handlers for amazing smoothing and conditioning, this will keep your Goldendoodle and Golden Retrievers coats looking amazing and more tangle free.
Small Batch Crafted, 100% Biodegradable, Soap Free and Cruelty Free
Remoisturizes, Releases Undercoat And Eliminate Static
Lightweight Conditioner Can Be Used As A Leave-In Or Rinse-Out
Almond Fragrance, Concentrated 15 to 1
Used By Professional Pet Stylists And Show Breeders For Over 30 Years
Show Handlers De-Tangling Spray
Crown Royale Ultimate Detangling Spray is unique, easy-to-use spray that removes tangles from a wet or dry coat. Formulated to help prevent staining, repel dirt and urine, and keep coat clean longer while removing tangles.
For use on dogs, cats and horses
Ready to Use
Works on both wet and dry coats
Prevents staining
Repels dirt and urine
Lengthen time between shampoos
Made in the USA
Biogroom Spray On Conditioner
Love, love, love this leave in spray! Not only does it condition the coat, it has an amazing long lasting scent.
Bio-Groom mink oil spray is a coat glosser, conditioner, and sunscreen in one. Mink oil spray enhances shine and protects coat colors. Made with non-greasy sunscreens that protect a pets coat color. Mink oil spray intensifies all colors on both long and short-coated breeds. Contains vitamin E to promote healthy skin and coats. Non-sticky, non-greasy formula is great for use just before entering the show ring. Mink oil spray comes in a 1-gallon size.
Top Performance ProEar Professional Medicated Pet Ear Cleaner is the fast, effective way to loosen and dissolve ear wax and reduce odors.
• Medicated formula
• Reduces odors
• Cleans and treats ears
Ingredients: Isopropy alcohol 35%, salicylic acid, oil of eucalyptus, polysorbate 60, FD&C yellow #5, FD&C red #40, FD&C blue #1
Directions for use: Simply apply a few drops directly into the ear canal. Leave for 2-3 minutes and wipe clean. Use weekly and before or after swimming or bathing to keep ears clean and healthy. Safe for use on dogs, cats, puppies, and kittens.
Sizes: 4 oz. , 16 oz., Gallon, and 2½ gallon
Keep your Goldendoodle 's ears clean by using this handy powder to help pull ear hairs, opening up the ear canal to then clean.
Top Performance ProEar Professional Ear Powder helps to maintain good ear hygiene and control odors in dogs, cats, puppies and kittens.
• Powder will not stain or discolor coat
• Easy grip dispenser provides excellent control for application by hand or with an instrument
Ingredients: Dicalcium phosphate powder, parachlorometazylenol (preservative)
Directions for use: Gently place nozzle into ear canal and lightly squeeze to puff ear powder into canal. For external use only. Use only as directed. Avoid contact with eyes. Store in a cool, dry place.
Sizes: 20g and 80g
For use with Pro Ear powder to pull hair out of Goldendoodle ear canals
Durable, easy to use
Serrated nose provides good gripping quality for pulling hair out of most dogs' ears
With narrow nose and short shaft, conveninet to use
Made from fine quality stainless steel
Blades: Straight
Steel Combs showcase the same top-notch quality and craftsmanship for which Andis has long been known.
Made of strong steel for unmatched durability
Removes tangles, dirt, and loose hair
Ideal for cats and dogs of all sizes.
All Systems Slicker Brush
All Systems Slicker Brushes are ideal for Goldendoodles and Golden Retrievers to get loose dead coat out fast! Longer pins get all the way through the most dense coats; safely cleans out dead undercoat, while not damaging top coat; soft and pliable enough for the most fragile coats.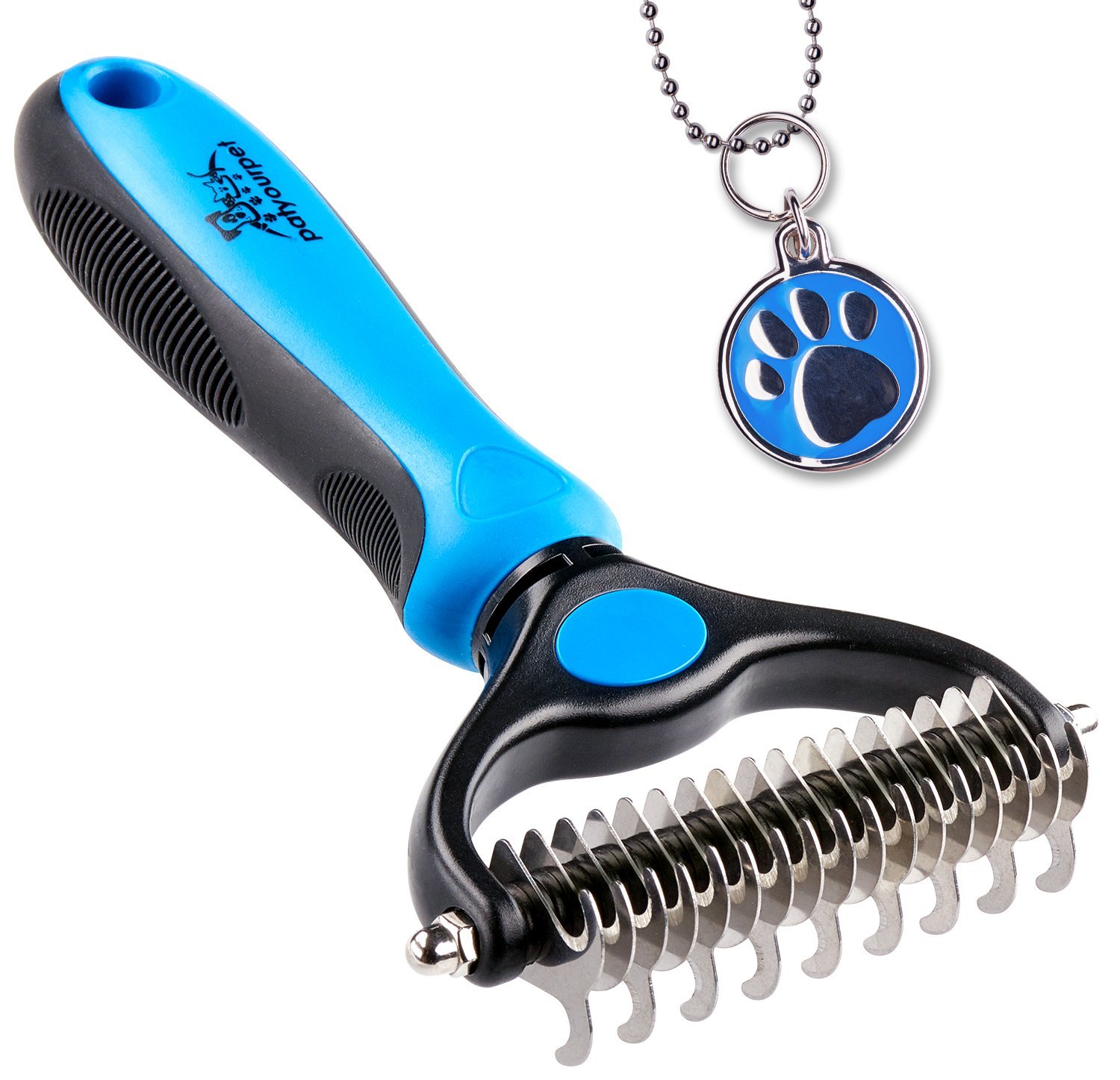 2-in-1 DUAL HEAD - Start with 9 teeth side for stubborn mats and tangles and finish with 17 teeth side for thinning and deshedding. Achieve faster and more professional dematting and grooming results!
ABSOLUTELY SAFE TO YOUR PET - No-scratch rounded outside teeth gently massage the pet skin. Meanwhile, teeth inner side is sharp enough to smoothly cut through the toughest mats, tangles and knots.
FORGET ABOUT SHEDDING! - Regular brushing easily removes dead undercoat so no fur goes flying. Skin massage ensures better blood circulation promoting healthy and shiny coat. Perfect for medium and long haired pets.
ENJOY COMFORTABLE BRUSHING - Soft ergonomic anti-slip grip makes regular combing convenient & relaxed. No-rust stainless steel teeth are ultra DURABLE & EASY TO CLEAN.
GET RID OF HAIR MESS... or GET A REFUND! - If, for whatever reason, you don't absolutely love your pet dematting rake, just contact us, and we'll refund every penny (or replace it, if there is an issue).
Chris Christensen Systems, Inc., the manufacturer, warrants our shear collection against defects in materials and damage for the lifetime of the shear (until it can no longer be sharpened). Throughout the lifetime of the shear, we will repair or replace with an identical pair or a like model (depending on availability of your shear model) as long as all pieces are included in the box. Included in the shear warranty, your Chris Christensen shears can be sharpened at our warehouse as many times as you want, for free. A charge of US $8.50 for shipping and handling will apply per shear within the continental United States. International shipping and handling rates will vary.
To use your lifetime shear sharpening and warranty, you must register your shears within 45 days of purchase by mail or on our website, here. We stand behind our shears, so if for any reason you are not satisfied with your shears, you can contact us by phone at (903) 389-7949, or by email at custsrv@chrissystems.com.
To send in your shears for servicing, include a check for shipping and handling costs, or pay online with the link below, and mail your shears to:
Chris Christensen Systems, Inc.
ATTN: Shear Sharpening & Repair
325 Industrial Park Drive
Fairfield, TX 75840
The Andis AGC 2-Speed Clipper is designed for cool, comfortable cutting. The cool-running, maintenance-free motor operates at two speeds, for easy cutting on all coat types.
Lightweight, rounded, ergonomic handpiece reduces fatigue
Runs cool so fans and air vents that can become clogged with hair are not needed
Break resistant nylon housing withstands harsh chemicals
Each clipper features break-resistant nylon housing, a locking blade hinge, and a removable drive cap for easy cleaning. Comes with a #10 blade and blade oil.

Andis® UltraEdge™ Clipper Blades are made from high-carbon steel and processed through a unique carburizing heat treatment that actually adds carbon to the metal. More carbon on the metal means a harder cutting surface. Blades hold a razor sharp edge that will endure prolonged use and more sharpening treatments.
Each Andis Ultra Edge dog clipper blade is sharpened to exact quality standards
Hand-tested before it is shipped
Blades have a Rockwell Hardness rating of 65

Size 50SS Blade has a 1/125" blade cut. Ideal for surgical trims. These dog clipper blades are preferred by veterinarians because they are less likely to rust or discolor from frequent use of strong disinfectants.
40 Blade recommended for use with comb attachments
10 Blade for ear leathers and bottom of paws
Professional-quality Wahl® Stainless Steel Guide Clipper Combs glide easily through coats for a smooth finish with uniform length.
Smooth tips ensure snag-free grooming
Universal, self-adjusting combs feature a four-sided fit for secure attachment
Work best with #30 blades
Fits Andis®, Conair®, Master Grooming Tools™, Oster®, and Wahl® detachable-style blades. Available in eight sizes; each is color-coded for easy size identification. Also available as a set of eight sizes.
Master Equipment™ Grooming Table features:
Easy-to-clean, non-slip, pebbled rubber surface
¾" laminated wood-composite top covered in black PVC
Sturdy and stable goal-post style legs made of chrome-plated, heavy-duty, 1" tubular steel
Foldable design for easy transport
Thick steel-reinforced rubber caps on leg ends keep table from moving
30" table measures 30" x 18" x 32½" with a 36" arm and has a 250 lb weight capacity
36" table measures 36" x 24" x 32½" with a 36" arm and has a 250 lb weight capacity
48" table measures 48" x 24" x 29¼" with a 48" arm and has a 250 lb weight capacity
METRO AIR FORCE MASTER VARIABLE SPEED BLASTERS
If you want a slightly warm and fast dry with variable speeds, this is the dryer to invest in! I personally use this and have for many years!
The Metro Air Force® Master Blasters are designed to literally blast water off wet coats for faster and more efficient drying. The Variable-Speed Blaster provides for complete control over the airflow for easy breed specification