Disclosure: After years of searching for quality and effective dietary and health products, we are pleased to refer you to excellent product links on this website, some of which have affiliate links. If clicked through to make a purchase, we receive a small commission. At no extra expense to you, proceeds are used to provide our adults and puppies a higher quality food which in turn produces healthier puppies offered for your consideration.
Immune System Support
Natural, Human Grade Ingredients
Formulated to combat free radicals
Keeping your pet's immune system strong is crucial in today's environment. Household toxins, fertilizers, pesticides, and even many of today's pet foods leave your pet's immune system susceptible. Regular and even premium brand pet foods can contain toxins, bad bacteria, and "meat by-products" (an industry term for anything other than meat). Other common ingredients are fillers like corn, wheat and barley. These food ingredients and other environmental factors are prime sources for poor health in your pet.
Our team of pet industry scientists, veterinarians, and medical specialists created NuVet Plus® to be a high-quality supplement that incorporates a precise formula of antioxidants, amino acids, vitamins, minerals, enzymes, herbs and more. NuVet Plus® brings together vital ingredients that perform synergistically to help improve your pet's health and keep them healthy. Our supplement is made using Natural, Human-Grade ingredients that are formulated in an FDA-registered Pharmaceutical Laboratory.
NuVet Plus® ingredients and nutrients are compounded to maintain their integrity and bio-digestibility for complete cellular infusion. We use special "paddle dried," whole chicken liver that provides vitamin potency, as well as a taste your pet will love. Please view our full Ingredient List and descriptions to understand how these essential elements can help your pet get started on a path to optimal health as well as help them maintain a quality life full of vigor, vitality, comfort, and energy.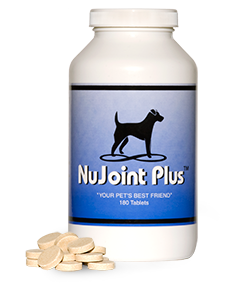 Hip and Joint Support
Natural, Human Grade Ingredients
Veterinarian recommended
Pets are just as susceptible to poor joints and decreased mobility as their human companions, and senior pets aren't the only ones that can be affected. In fact, pets of all ages can be affected.
Safe for all breeds and ages, NuJoint Plus® was designed to be a natural, nutrient-rich hip and joint support supplement. We use only the highest quality pharmaceutical, human-grade ingredients that are specifically compounded in an FDA-registered laboratory for maximum potency, bio-availability and effectiveness.
NuJoint Plus® is a state-of-the-art formula with the goal of optimal health all through your dog's life. Made with nutrients known for maximum mobility, NuJoint Plus® helps support optimal joint and hip health.
Double Strength Hip and Joint Support
Natural, Human Grade Ingredients
Veterinarian Recommended
NuJoint Double-Strength (DS)! This hip and joint supplement can help dogs of all ages by promoting optimal joint health.
NuJoint DS has increased amounts of the active ingredients MSM (Methylsulfonylmethane), Glucosamine, and Chondroitin. NuJoint DS also includes Vitamin C (Ester-C®) which is required for the synthesis of collagen (a component of joint cartilage), and it can also reduce free radical damage to cartilage.
We only use the highest-quality pharmaceutical, human grade ingredients, cold-processed and specifically compounded in a FDA-registered laboratory for maximum potency and effectiveness.
NuJoint DS supports optimal joint health and mobility. NuJoint DS comes in chewable wafers are flavored with real chicken liver and easy for pets to digest. NuJoint DS is safe and beneficial for dogs of all ages, including pregnant females.